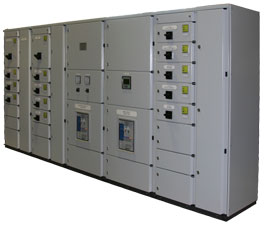 Alliance partners Abigroup Contractors, Aquatec Maxcon, Citiwater (Townsville City Council), GHD Pty Ltd and United Group Infrastructure will deliver a state-of-the-art wastewater management network, to produce recycled water, that can be reused in the community and help protect the environment for future generations. The upgrade to the Cleveland Bay Wastewater Treatment Facility will see it become the largest treatment plant of its type in the southern hemisphere.
The three switchboards manufactured by NOJA featured a PLC controlled Automatic Transfer System to switch load to a backup generator in the event of loss of mains supply. Terasaki Tempower 2 ACB's provide the necessary mechanical interlock to ensure that only one or another of the supplies is on at any one time, they also provide the position status indication necessary for provision of an electrical interlock for added security.
The switchboards incorporated Arc Fault Detection to ensure instantaneous isolation via the upstream 11kV breaker in the event of an arc fault. A mix of single and bi-directional sensors provided coverage throughout the incomer tiers for both Mains and Generator supply. One of the switchboards catered for a future Biogas co-generation facility by including provision for Ergon Energy metering and remote connection / disconnection of the generator. The tier containing the generator supply also included arc fault detection capability.