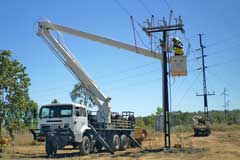 GBS Gold's processing plant is situated in Pine Creek, 250km south of Darwin in the Northern Territory of Australia. Outages caused by bats on the 11kV overhead distribution system costs thousands of dollars with the amount of fuses are used each dry season. Costs associated with lost productivity of staff who are required to manually change these fuses adds to the annual expense caused by this problem - all at a time when gold has been at record prices.
Maintenance staff at the mine made numerous efforts to minimize the effects of bat strikes on the lines, but nothing seemed to have a lasting impact. After asking around other mines in the region for any solutions to the bat problem, the electrical supervisor at GBS Gold, Paul Barnes, was told about the NOJA Power recloser installation at the Sally Malay Nickel mine for this exact purpose.
GBS Gold had two main objectives - minimize disruption to the processing plan and stop replacing expensive fuses. Two OSM15 reclosers were purchased so that the distribution line could be sectionalized into two separate segments. A fuse saving strategy was employed in the protection settings so the reclosers would isolate the faulted line without blowing the fuses.
NOJA Power configured each recloser to operate three shots to lockout, allowing the power to be restored if the bat falls free from the line during the dead time of each operation. In the event that the bat remains on the line, the recloser will go to lockout after three trips and sectionalise the faulted section of feeder, leaving the rest of the processing plant still operational.
The return on investment for these reclosers is expected to be almost instant. When the cost of replacing the fuses, lost production and maintenance time is taken into consideration, the cost of installing the two OSM reclosers will show a positive return to the operation before the first bat season has finished.
The OSM recloser is well suited to this type of application. Numerous faults occur during the bat season and the 30,000 operation rating of the OSM means it will easily last the distance. The NOJA Power OSM recloser is also the lightest and smallest on the market today, ensuring ease of installation on distribution lines where weight and space is important.
Following the successful installation of the first recloser, NOJA Power Service Engineer, Brian O'Sullivan, conducted basic operation training with the electrical and maintenance crew that was cut short with the appearance of a 3.5 metre crocodile on site.
The maintenance team was also impressed with the well thought out package supplied in the crate. NOJA Power pre-assembled the surge arrestors and connecting bars on the bushings, supplied molded bushing boots to fit the arrangement and supplied insulated water-blocked cable pre-stripped at the ends for convenience. The installation team was able to place the crate at the base of the pole and install the OSM recloser with ease.