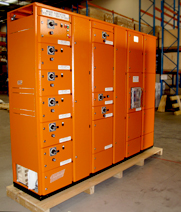 Global demand for coal is growing at a phenomenal rate and the upgrade was commissioned by the Queensland Government as predictions in demand for coal are fuelled by industrial growth in China and India.
Situated 25 kilometres north of Bowen, the Port of Abbot Point is Australia's most northerly coal port. It currently comprises a rail in-loading facility, coal handling and stockpile areas, and a single trestle jetty and conveyor connected to a berth and shiploader, located 2.75km off-shore.
The Marine Works Package will see the construction of a second 500 metre long berth, approximately 2.9 kilometres off-shore, along with a 2.9 kilometres of jetty conveyor and transfer towers. The MCC is to be nestled on the wharf.
With miners contracting to export increasing quantities of coal, the Queensland Government is acting to ensure that Abbot Point is able to cater for the demand. The state of the art coal shiploader and tripper assembly will load 7,200 tonnes of per hour. The infrastructure extension will enable the port to increase coal export capacity from 25 to 50 million tonnes per year.
The long conveyor runs along the jetty and takes coal out to the ship to be put on to the ship by the shiploader. The conveyor travels up and down the wharf and takes the coal to the 64m boom loader which drops down over the ship to load the coal.
The John Holland Group is one of Australia's leading and most diversified contracting, engineering and services provider, operating throughout each state and territory of Australia with the unique delivery model of national specialist skills integrated with strong regional businesses.
The team of 300 people working on the site throughout the 18 month long project is scheduled for completion in May, 2010.