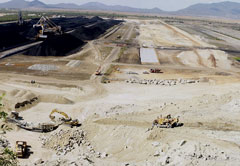 MiE is a leading Australian instrumentation and electrical supplier that and is a subsidiary of the Monadelphous Group. MiE is committed to providing innovative and high-quality electrical engineering solutions throughout Australia and the Asia-Pacific Regions, and is awarded the PCQ contract for the HV infrastructure upgrade turnkey works.
NOJA Power is manufacturing Intelligent MCCs, incorporating DOL motor drives and Variable Speed motor drives, interfaced to a plant-wide control and monitoring system. The upgrade is part of the ongoing project at Abbot Point for PCQ, a government-owned corporation, with engineering to the project provided by Connell Hatch.
The MCCs ordered are designed to AS/NZS 3439.1 and pass a comprehensive Factory Acceptance Testing and pre-commissioning process carried out as a joint effort by NOJA Power, Connel Hatch, and MiE. Monitoring and control of the motor drives is by way of Devicenet and Controlnet protocols over a communications bus. Motor drive Information is provided by Sprecher and Schuh CEP7 C3 Intelligent Motor Overload units. Variable speed motor control is achieved using Allen Bradley Powerflex drives installed together with Line Reactors, housed in fan cooled enclosures mounted separately from the main MCC.
The NOJA Power MCC is an ideal choice as it provides the designer with flexible options including full depth cable ways utilised to accommodate the control and monitoring hardware without requiring additional tier space.
The safety interface to the control system utilises Silbus equipment, PILZ relays, and Dupline carrier for conveyor safety and control. Each motor drive cell door is fitted with a Voltage Vision device to provide unambiguous indication of an energised motor drive. Earth leakage protection is provided by the new Terasaki ZS range of Tembreak 2 Moulded Case Circuit Breakers. The ZS range MCCB provides standard thermal-magnetic overload functionality but has the advantage of not requiring a separate EL toroid. Terasaki's Tempower2 ACBs are fitted with AGR-31 over current relays to provide the specified under voltage protection on an individual phase basis. The AGR-31 OCR also provide full power management functions accessible locally from the large LCD or remotely via the MODBUS communications interface, making a separate PM relay and CTs redundant, minimising the space requirements. To cope with the harsh environment of the portside, the MCCs are manufactured with a high Ingress Protection index; all busbars are fabricated using tinned copper and each tier is fitted with oxidation and corrosion inhibitors.