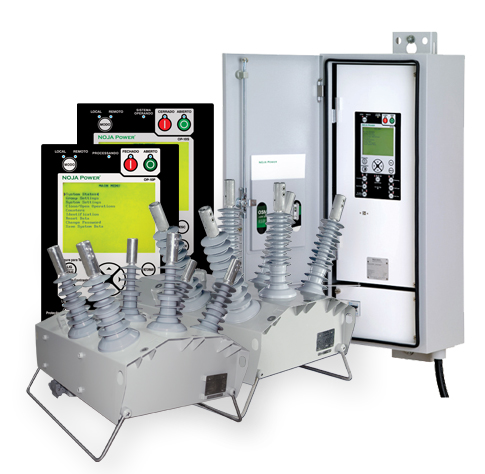 NOJA Power has recently released the new RC10 control and communication cubicle with OSM15 and OSM27 reclosers in English, Spanish and Portuguese language variants. The power and benefits of these Cubicles are now available to broader distribution networks and wider engineering communities around the world.
Some of these benefits include upgraded data logging, communication, Smart Grid automation and grading features which are outlined below:
Smart Grid Engineers can now take advantage of the powerful data logging features within RC10. With full event data logging of both voltage and current on all 3 phase, engineers have the information at their fingertips to aloe them to better distribute loads and reduces peak demand. This data is readily available and can be remotely accessed from SCADA Control for Smart Grid load distribution and growth planning.
The Communication features within RC10 allow Full remote Engineering Access through TCP/IP standard protocols, allowing interaction between RC10s and the SCADA master more easily and flexible.
RC10 includes new Smart Grid Automation features such as Fault Finding, Fault Isolation and Self-Healing features like Automatic Backfeed Restoration (ABR), 8 Protection groups can be programmed to tailor various scenarios for the grid.
Advance protection grading capability includes Zone Sequence Coordination (ZSC) and Temporary Time Addition (TTA). This allows reclosers in series to keep synchronized during a fault isolation process when they are configured with similar or identical protection curves. The RC10 control and communications cubicle is shipping now with both the OSM15 and OSM27 products.