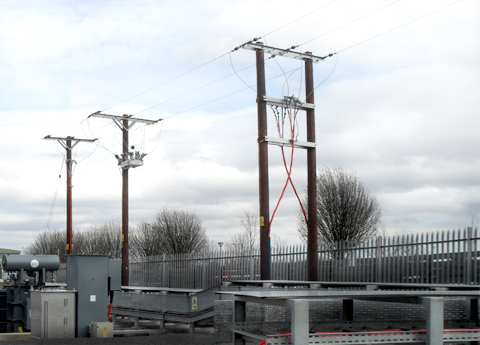 "Smart grid technologies are increasingly important as we move to a low-carbon economy, helping to reduce energy waste and making it easier for homes and businesses to generate their own renewable energy.
The PNDC is located in Cumbernauld and is a 900 square metre building established in response to a growing demand for secure, reliable and environmentally-friendly power, and uses a mini electricity grid system, which can be isolated from the national network to test new technology.
As an approved supplier to Scottish Power, NOJA Power were pleased to have been selected to provide the 11kV Pole Mounted Reclosers which will be used to feed the site and provide flexibility of supply. The PNDC facility is a joint venture between the University of Strathclyde, Scottish Power, Scottish & Southern Electricity, Scottish Enterprise and the Scottish Funding Council, is part of the Scottish Smart Grid Strategy, launched by the First Minister in 2012, which seeks to make Scotland a leading provider of "smart grid" technology that will improve the efficiency of the distribution of electricity.
The purpose-built centre, will be home to researchers, engineers and industry specialists who will conduct new research and develop new technologies in this sector, from advanced grid control schemes to intelligent sensor systems.
Frank Mitchell, CEO of Scottish Power Energy Networks, said "The Power Networks Demonstration Centre is a state-of-the-art facility that has an important role to play in helping to drive innovation and develop the Smart Grid required for the 21st century. Smart Grids will allow many more customers to install distributed generation, support electric vehicles, reduce carbon emissions and improve services for our customers".
"We are on the verge of delivering the largest upgrades to our electricity networks in more than half a century - which will see billions of pounds of investment and create thousands of jobs. Partnerships like the Power Networks Demonstration Centre are a vital part of the energy industry's plans to ensure this investment meets the future needs of our customers in Scotland and across Britain."