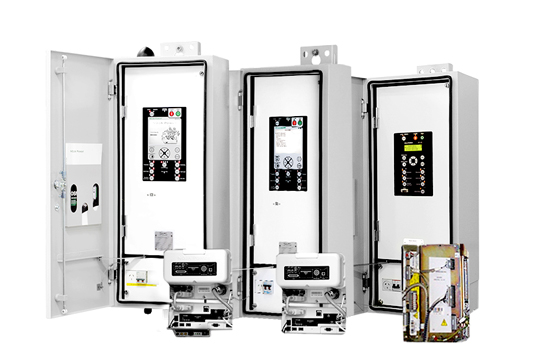 The table below shows you, in brief terms, just how much functionality has been upgraded. In retrospect, NOJA Power are well into their second decade of technology development – it's no surprise there is an improvement in capability. The additions are all growth in a product which has been evolved over time to meet utility requirements.
Since inception, NOJA Power has focused on collaborating with utilities in guidance of the R&D Process, identifying challenges which are faced by engineers every day and engineering solutions to address these. Fault Locator, Co-Generation, IEC 61850 and Secure DNP3 are just a few of the latest functions developed in response to field requirements.
The release of the legacy compatible RC15-OSM200 kit has brought the latest in protection and control functionality in reach of the oldest NOJA Power devices in service. If you have an RC01 controlled NOJA Power Recloser, you now have an upgrade path to deploy the latest in Recloser Controller technology.
One of the greatest challenges solved by an upgrade to the RC15 is maintaining network-wide time stamping accuracy, regardless of SCADA or communications reliability. The RC15 controller provides end users with an inbuilt GPS, delivering time-stamping accuracy to the microsecond level. Since the time synchronisation is linked directly to GPS rather than a SCADA set time command, utilities can be sure that their full population of devices are always in sync.
| | | | |
| --- | --- | --- | --- |
| Functionality | RC01 | RC10-OSM200 | RC15-OSM200 |
| Directional Overcurrent and Earth Fault Protection | • | • | • |
| Directional Sensitive Earth Fault | • | • | • |
| Directional Negative Phase Sequence Protection | | • | • |
| Dynamic Directional Change Response |   | • | • |
| Inverse Time Protection | • | • | • |
| User Defined Curves with 32 Time-Current Co-ordinates |   | • | • |
| High Set Instantaneous Elements | • | • | • |
| Inrush Restraint | • | • | • |
| Cold Load Pickup | • | • | • |
| Live Line Overcurrent | • | • | • |
| LL Allow Close |   | • | • |
| Phase Overvoltage (OV1) |   | • | • |
| Line-to-Line Overvoltage (OV2) |   | • | • |
| Neutral Displacement Overvoltage (OV3) |   | • | • |
| Negative Sequence Overvoltage (OV4) |   | • | • |
| Phase Undervoltage (UV1) | • | • | • |
| Line-to-Line Undervoltage (UV2) | • | • | • |
| Loss of Supply Undervoltage (UV3) | • | • | • |
| Voltage Sag (Uv4Sag) |   | • | • |
| Loss of Supply Detector | • | • | • |
| Under Frequency Protection | • | • | • |
| Over Frequency Protection |   | • | • |
| Neutral Displacement Protection (59N) |   | • | • |
| Admittance Protection (21Yn) |   | • | • |
| Broken Conductor Protection (46BC) |   | • | • |
| Synchronism Check (25) |   | • | • |
| Auto-Synchroniser (25A) |   | • | • |
| Fault Locator (21FL) |   | • | • |
| Live Load Blocking |   | • | • |
| Harmonic Protection |   | • | • |
| Automatic Backfeed Restoration | • | • | • |
| Loss of Supply Reclosing Mode | • | • | • |
| Automatic Change Over |   | • | • |
| Sectionaliser |   | • | • |
| Alarm Latching |   | • | • |
| Sequence Advance |   | • | • |
| Advanced Programmable Logic |   | • | • |
| DNP3 Protocol | • | • | • |
| DNP3 Security Authentication |   | • | • |
| IEC  60870-5-101 Protocol | • | • | • |
| IEC  60870-5-104 Protocol |   | • | • |
| 2179 Protocol | • | • | • |
| IEC 61850 Protocol (GOOSE Publisher and Subscriber, MMS) |   | • | • |
| IEC 61499 Protocol (Smart Grid Automation) |   | • | • |
| Power Quality |   | • | • |
| Variable Panel Fast Key Configuration |   | • | • |
| Cellular Network Modem (2G, 3G and 4G) |   |   | • |
| Wi-Fi wireless connectivity |   |   | • |
| Global Positioning System (GPS) |   |   | • |
"Many of our electricity utility customers today tell us they expect their recloser circuit breaker tanks to provide them with a 30 year life but they budget to upgrade the electronic control three times over the life of the their recloser circuit breaker tanks," reports NOJA Power Group Managing Director Neil O'Sullivan. "These upgrades are to allow them to keep pace with technological changes in system protection, communications and security. The RC upgrade path for legacy recloser circuit breaker tanks meets this customer expectation."
If you'd like to know more, contact with your local NOJA Power Distributor or go to www.nojapower.com.au
By Martin van der Linde – Marketing Manager NOJA Power