OSM Series Recloser Undergoes Independent ISO/IEC 17067:2012 Assessment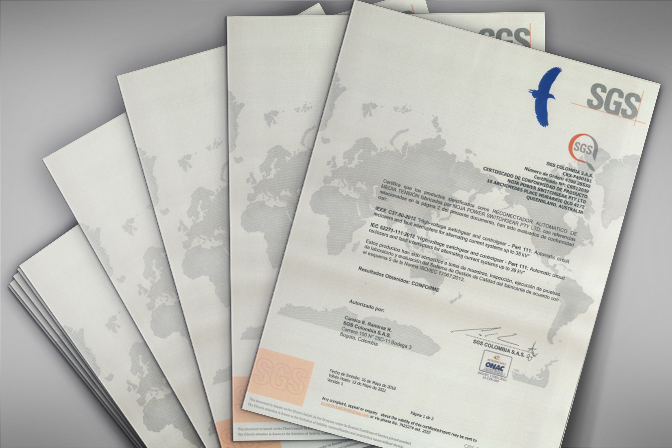 NOJA Power's customers are guaranteed that the OSM Series product range has been fully tested in accordance to IEC 62271-111:2012 and IEEE Std C37.60-2012 after an independent detailed review according to ISO/IEC 17067:2012.
ISO/IEC 17067:2012 is a conformity assessment that was independently completed by world leading inspection and certification company, SGS, to ensure that the OSM Series recloser complies with international standards.
NOJA Power CRS12039 Certificate
The ISO/IEC 17067:2012 assessment incorporated a detailed review of all type test certifications provided by independent laboratories with ISO/IEC 17025 accreditation such as DNV KEMA, located in the Netherlands. The type test certificates are evaluated in conjunction with production unit samples and the quality management system.
The comprehensive review guarantees that every single OSM built and commissioned into a utility's network meets international standards. The assessment provides customers an additional level of confidence that the OSM Recloser provided by NOJA Power is of the highest quality and will improve network reliability.
"A reputable worldwide independent accreditation entity has successfully sampled, inspected, laboratory tested all current references of the OSM Recloser, as well as, evaluated NOJA Power's Quality Management System. All in accordance with ISO/IEC 17067:2013," says Miguel Lozano, Business Development Manager for Latin America.
NOJA Power CRS12082 Certificate
"This provides our customers around the world the guarantee that our product not only is manufactured and tested in compliance with IEC 62271-111:2012/IEEE C37.60-2012 standard, but also possesses all type test certificates issued by accredited laboratories that comply with ISO/IEC 17025 standard requirements."
Using the OSM Series Recloser ensures that you will be receiving a product that meets the highest international standards and will seamlessly integrate into your network to improve reliability and reduce outages, which has already been evidenced by the 50,000 reclosers installed in over 87 countries around the world.