How to Address Renewable Energy Connection with Integrated Switchgear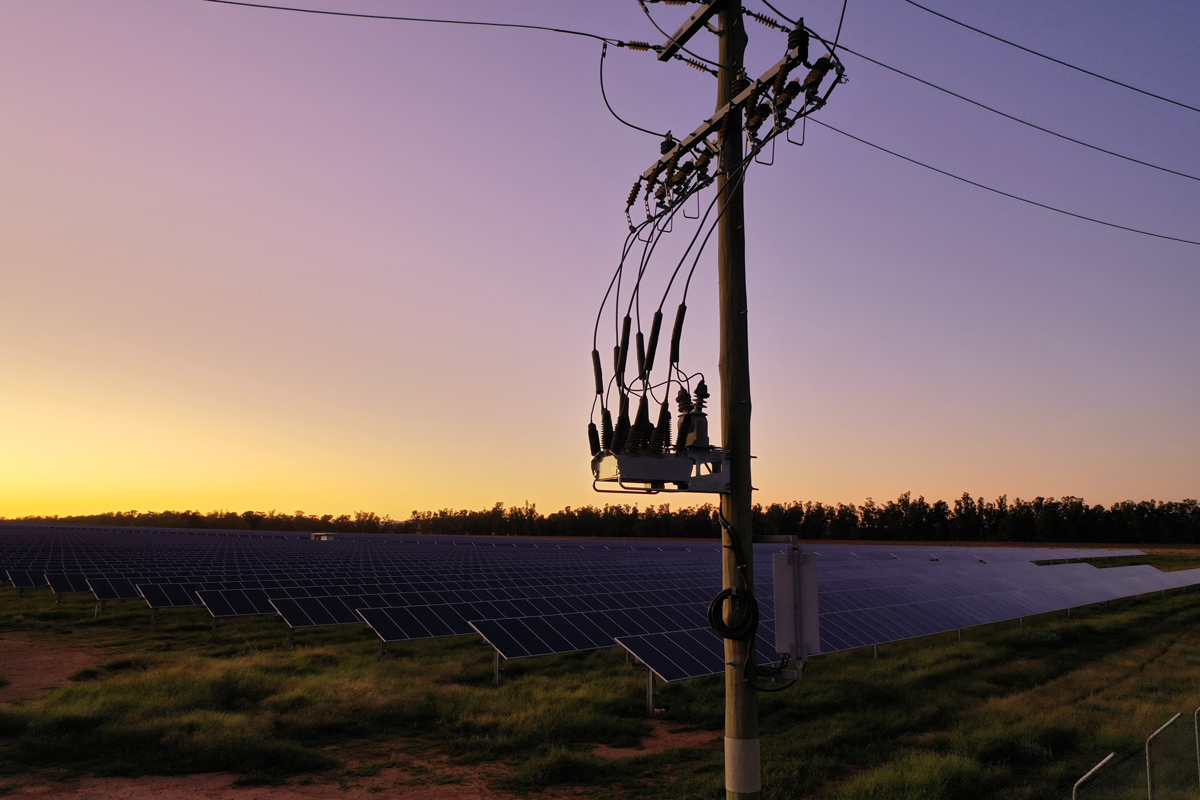 Grid scale solar power plants are good for the environment, and good for business. Not only do they displace the generation demand for fossil fuels, but once they're built, it costs virtually nothing to generate revenue. As the cost of installations come down, so too do the payback periods, and so globally we see a proliferation of these installations.
Two NOJA Power OSM Reclosers used to connect a Solar Farm to the Distribution Grid at 35 kV.
And while this commercial incentive is driving investment in grid scale solar installations their integration to the distribution grid provides challenges to distribution network service providers (DNSPs).
Unlike the energy that DNSP's buy from High Voltage Transmission providers (TNSPs), energy that comes from solar power plants and other distributed generation may have significant power quality issues. Voltage fluctuations and harmonics from the intermittent and power electronic driven distributed energy sources abound, leaving utility engineers to solve these problems. The confounding factor is that power quality issues are not readily visible. Unless you can measure and record the information, symptoms tend to be early failure of expensive equipment like transformers – hardly a cost-effective sacrificial test for the presence of harmonics.
In the past, detecting power quality issues necessitated buying expensive power quality equipment. Additional sensor instruments, such as high bandwidth CT's and PT's, would need to be installed, and connected to a power quality analysis device, simply to understand the problem. However, today this is no longer necessary.
Devices such as NOJA Power's OSM Recloser with RC20 control provide all the Power Quality measurement information necessary to understand distributed generation.
Reclosers are commonly used as the connection switchgear for solar farms because they integrate all the sensors, protection systems and control necessary to remotely manage the installation. Until recently, power quality remained the outstanding item, although now with the RC20, the device can measure up to the 63rd harmonic. This allows a single device to address the entire specification of renewable energy integration.
The RC20 logs many PQ metrics, including voltage sags and swells alongside harmonics. This comprehensive data is stored in IEEE PQDIF format, the industry standard, to facilitate the use of this information in third party analysis and design tools.
Pole Mount or Ground Mount
A NOJA Power OSM Recloser as the point of connection for a Solar Farm in Australia.
NOJA Power's OSM Recloser with RC20 control is available in both a pole mount and ground mount configuration. The former is the most cost effective, while the latter provides options for additional integrated equipment, such as revenue metering or earth switches. Both formats have been extensively deployed for renewable energy connection.
A NOJA Power GMK for Renewable Energy Connection
"Providing the complete distribution grid interface solution for large scale solar farms has been a significant recent focus on our R&D efforts," reports NOJA Power Group Managing Director Neil O'Sullivan.

"As a result our OSM pole mount recloser product or our GMK ground mount kiosk with internal arc certification both provide the complete interface solution for either overhead or underground connections when combined with the RC20 control with inbuilt power quality and synchrophasor capability."
NOJA Power's OSM Reclosers are installed in 104 countries worldwide today. As the world transitions to a sustainable and reliable energy future, the OSM Recloser with RC20 is an environmentally friendly, fully integrated solution supporting the journey.