NOJA Power 38-kV ACR and earth switch in customised ground mount kiosk provides cost-effective and portable solution for distributed generation grid connection
Turnkey solution offers alternative to expensive infrastructure for grid connection of renewable energy sources, mobile generators and other forms of distributed generation, with added benefits of protection, power quality monitoring and data logging.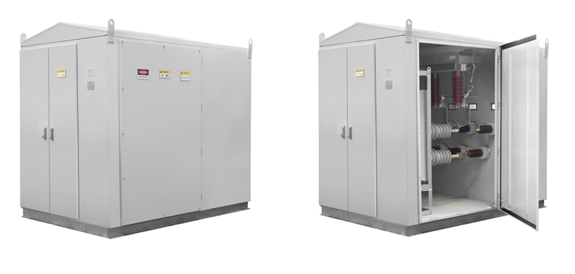 Electrical switchgear engineers NOJA Power today announces the introduction of the 38-kV ground mount kiosk, a distributed-generation grid connection solution based on a customised version of the company's standard ground mount kiosk. The product comprises a NOJA Power OSM38 three-phase Automatic Circuit Recloser (ACR or "auto recloser"), RC10 control cubicle and earth switch housed in a vandal-proof ground mount kiosk manufactured from 304 stainless steel and finished using a powder coat in APO Grey with a ripple finish.
As government environmental initiatives encourage utilities to move away from centralised generation models, based on large fossil-fuelled power stations, to a distributed model using smart grids––advanced, computerised electricity distribution networks––and numerous low-capacity generating sites (including an increasing proportion of renewable energy), the connection of distributed generation is becoming more common.
The 38-kV ground mount kiosk provides a cost-effective alternative for connecting low-capacity distributed generation compared with alternatives such as expensive substation infrastructure - provided that fault currents are below the OSM38 ACR's maximum rating. The 38-kV ground mount kiosk not only provides switching, bidirectional protection, control and communication capabilities but also performs voltage measurements, three-phase current measurement and extensive power quality and data logging.
The ground mount kiosk houses an OSM38 ACR––a 38-kV maximum rated voltage, 800-A rated continuous current, 12.5-kA fault break capacity device––an RC10 control and communication cubicle and an earth switch. There is also sufficient space in the ground mount kiosk to house additional third-part distribution automation equipment to meet customisation requirements for a turnkey solution. In addition, the 38-kV ground mount kiosk is mounted on skids enabling it to be easily moved should the distributed generation plant (for example, a mobile diesel generator) be relocated.
Earth switches are a mandatory safety requirement for single-feeder distributed generation, to ensure that the line is de-energised prior to maintenance work. For additional safety, the 38-kV ground mount kiosk incorporates a mechanical (rack-and-pinion) interlock between the ACR and earth switch to ensure reliable, automatic operation of the switch during line isolation.
"Customers from all over the world are increasingly turning to NOJA Power for turnkey solutions enabling them to connect distributed generation to existing networks," says Neil O'Sullivan, NOJA Power's Managing Director. "The OSM series auto reclosers are a proven answer for smart grid switching and protection and, with the 38-kV ground mount kiosk, NOJA Power's engineering team's have built on that functionality to design a cost-effective, robust and portable solution that meets customer demand. Better still, by incorporating an interlocked earth switch, the company's engineers have helped to make maintenance quicker and safer, further reducing the customers' costs."
NOJA Power's OSM series ACRs are fundamental elements of smart grids and provide a comprehensive suite of automation features. The units perform voltage measurement on all six bushings, current measurement on all three phases, bidirectional protection and extensive power quality and data logging capability. The OSM series has been fully type-tested by independent laboratory KEMA in the Netherlands to ensure long life and reliability under the harshest environmental conditions. Since their introduction, the OSM series ACRs have been installed by utilities in over 84 countries around the world. (See "About the NOJA Power OSM series" below.)
The RC10 is a supervisory control and data acquisition (SCADA)-ready controller that provides a directional overcurrent, earth fault and sensitive earth fault relay, auto reclosing relay, instantaneous metering, event log, demand logger and remote terminal unit (RTU) for remote control in a single package. (See "About the NOJA Power RC10" below.)