Bringing Safety, Security and Simplicity to the Global Electricity Distribution Network
Exploring the NOJA Power OSM Recloser and its Applications in the Distribution Network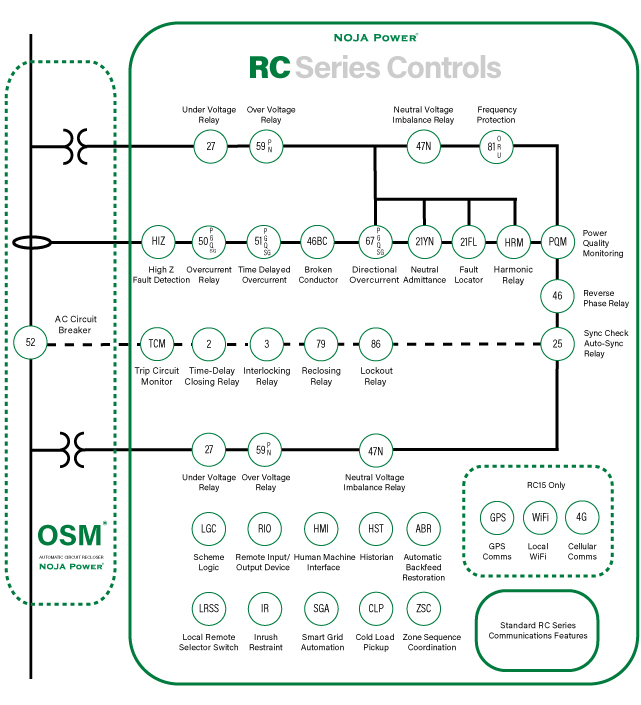 Australian switchgear engineers NOJA Power are celebrating the achievement of 55,000 global installations of their OSM Recloser product in December 2018, and in commemoration have consolidated the functionality and versatility of this product that has made this achievement possible.
Driven to deliver safety, security and simplicity to the global electricity distribution network, NOJA Power has partnered with many international leaders in energy distribution to co-create a product which resolves a myriad of distribution network protection, automation and reliability challenges.
In recognition of the ongoing development of the product, the updated 2019 OSM Recloser product brochure highlights a consolidation of the technology achievements this product embodies, made possible through partnerships, industry feedback and almost two decades of field experience.
The NOJA Power OSM Recloser is an integrated solution, comprising of a Solid Dielectric Fully enclosed switchgear module, and the advanced NOJA Power RC Control Cubicle.
Expansive and adaptable, the protection and control features of the OSM Recloser has seen it deployed beyond conventional distribution feeder applications in a wide variety of smart grid, automation and network protection scenarios, such as:
Substation Protection
Renewable Energy Connection
Mining and Industrial Equipment Protection
Auto-Changeover supplies for critical infrastructure
Railway single phase isolation and earthing
Fault Throwing and Testing Applications
Portable Switchgear Installations
"It is a great achievement to have 55,000 OSM reclosers in service in 88 countries around the world today and one the entire NOJA Power team can be proud of," reports NOJA Power Group Managing Director Neil O'Sullivan. "It is also a testament to the reliability and performance of our leading edge technology recloser product as well as the high level of service and support our customers enjoy globally."
NOJA Power's engineering commitment and experience in these applications equips the firm to address challenges in the distribution network. Reliable and safe energy should be accessible to all the world's citizens, and NOJA Power are committed to developing the technology and expertise to achieve this goal.  If you have a distribution network challenge, get in contact at www.nojapower.com.au or contact your local NOJA Power Distributor.