What Happens to a Recloser in an Earthquake?
Laboratory Tests verified by Field Performance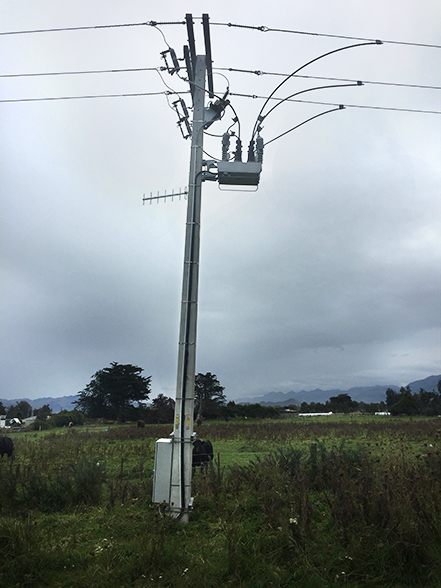 The IEC and ANSI Standards for Automatic Circuit Reclosers include a clause regarding vibration testing and seismic activity, but in 2016, NOJA Power's OSM Recloser was subjected to the full force of one of the largest and most complex Earthquakes ever to strike the South Island of New Zealand.
The 2016 Kaikoura Earthquake measured 7.8 on the Richter Scale, with over 20,200 aftershocks recorded. Pictured below is a NOJA Power OSM Recloser installation located just north of the Kaikoura Township, where the sheer magnitude of the earthquake caused the power pole to sink into the earth. Post-earthquake, the control cubicle was resting neatly on green New Zealand pasture, still affixed to the concrete power pole.
Despite the violent repositioning of the OSM Recloser, the device remained operational. The OSM Recloser was inspected after the event, and deemed fit to continue operation and is still in service today.
"Type testing during the design and development of our range of pole mounted switchgear products confirms our products meet Standards requirements, but the ultimate performance test is in the field," says NOJA Power Group Managing Director Neil O'Sullivan, "It is clear based on the performance of this product under extreme earthquake conditions our products exceed Standards requirements."
An incredible story and something Energy industry veterans don't see every day, it is a comfort to see the reliability of the OSM Recloser in the field. If you have a story of field performance of your OSM Reclosers, NOJA Power would love to hear from you. You can get in contact at sales@nojapower.com.au or through our website www.nojapower.com.au