Infrastructure Connections to Existing Overhead Assets: Solved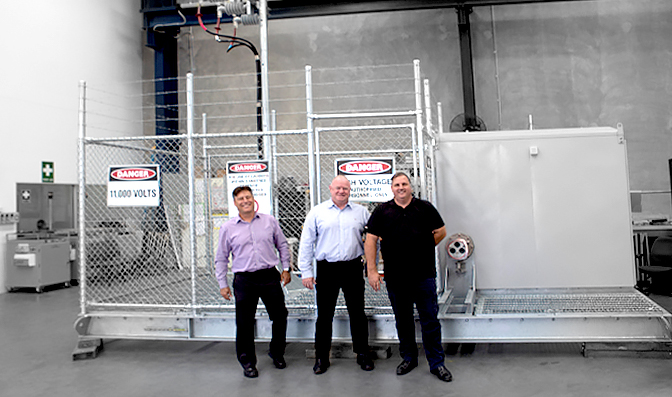 Infrastructure Connections to Existing Overhead Assets: Solved
In a home-town collaboration, Brisbane switchgear engineering firm NOJA Power and electrical engineering firm POWINS have completed manufacture of a Mobile Substation solution for developing remote locations.
The mobile substation facilitates planned infrastructure operations that have a requirement to "take from" or "export to" an existing overhead service.
The POWINS-NOJA Power Mobile Substation removes the need for expensive in-ground designed and built electrical infrastructure. This mobile substation can be fully designed, manufactured, assembled and factory routine tested in a controlled environment. Once approved, the unit packs for transport and requires minimal on-site assembly for a prompt and safe transition to service.
Onsite installation requirements are minimal for the Mobile Substation, with no footings required – only flat prepared ground. The substation is a mechanically certified mobile solution with rated SWL lifting points, supplied complete with conformity to region wind loadings as required. The Mobile Substation is provided with a main earth bar for solution continuity and point connection to the site local earth grid.
The joint expertise of POWINS and NOJA Power in switchgear servicing mining standards and specifications ensures the product is compliant for purpose, as well as ensuring compliance to mandatory IEC and Australian Standards.
With the OSM Recloser product being rated to 38 kV, POWINS-NOJA Power Switchgear assemblies are available for all voltage classes up to 38 kV.
Overhead Connection Side – POWINS-NOJA Power Mobile Substation
The Technical Overview:
In this project, a mining customer required a connection to an existing 12 kV overhead distribution line. The POWINS-NOJA Power Mobile Substation accepts a connection to the overhead line via a pole mounted visual isolation switch. The connection is then made to a NOJA Power GMK – an integrated kiosk switchgear assembly, that provides a 15 kV OSM Recloser and load side interlocked earthing switch in an environmentally resilient assembly.
Both the overhead line and switched outgoing feeder power cable are monitored and controlled via fibre optic communications.
This topology not only allows communication to the OSM Recloser's RC10/RC15 protection and control system, but also communications to the downstream 11 kV/ 415 V Transformer and 415 V Motor Control Centre, described as the "project critical equipment" that demand this smart grid connection the POWINS-NOJA Power Mobile Substation provides.
NOJA Power GMK mounted on the Mobile Substation, with an external MV Cable Connection Socket
The switched 11 kV supply and fibre optic cables exit the GMK enclosure via a Mining type bolted adaptor, which requires and external earth continuity protection relay to interface with the sophisticated OSM Recloser protection relay via its programmable I/O capability.
"POWINS have developed a structurally engineered transportable skid solution to provide a connection from an overhead medium voltage feeder to a trailing cable for mining applications fully integrated into the NOJA Power GMK product," reports NOJA Power Group Managing Director Neil O'Sullivan. "It will allow fast deployment in a safe and fully integrated solution."
"At POWINS we practice a 'safety by design' philosophy for all our switchgear solutions, which is a principle apparent in the team at NOJA Power," said Julian Rauwendaal, Operations Manager QLD for POWINS. "We jointly worked to integrate the NOJA OSM recloser circuit breaker technology into the POWINS mobile substation solution, well exceeding our Client expectations."
For more information, contact NOJA Power at www.nojapower.co.uk and POWINS at www.powins.net